How to Identify High-Quality Hits Early On: Your Guide to Ensuring Reproducible In Vitro Oncology Studies
Posted by: Elie J. Diner, Ph.D. -
In the past several decades, oncology drug development has had some major successes, from the approval of game-changing therapeutics such as rituximab and trastuzumab in the late-90s to the first tumor-agnostic approval for pembrolizumab in 2017.1 Now, with new, unexplored targets and novel biotherapeutic strategies (i.e., CAR-T) coming of age, the successes promise to continue coming.
The Reproducibility and Translatability Gap
Despite medical advances, oncology drug development faces an abysmal clinical success rate: Nearly 97% of anticancer drugs that enter clinical development fail to make it to patients,2 and the likelihood of approval for oncology drugs is lower than the industry average and for non-oncology indications.3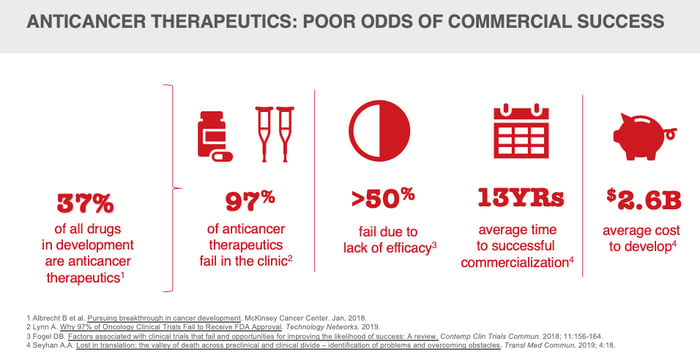 The problem is two-fold: reproducibility – the ability to repeat key preclinical results – and translatability – the ability to recapitulate clinical results with preclinical in vitro studies.4,5 Broadly, the common denominator is the quality of preclinical data, which is plagued by a lack of transparency and standardization.6,7 For drug developers, assays and the data they produce may satisfy regulatory requirements, but they do not translate to the clinic.
Translation Through Precision: certis In Vitro

Data
Certis provides a full suite of custom in vitro pharmacology services for oncology drug developers who need help identifying high-quality hits. Certis emphasizes executing assays with precision, delivering reproducible results that translate to the clinic.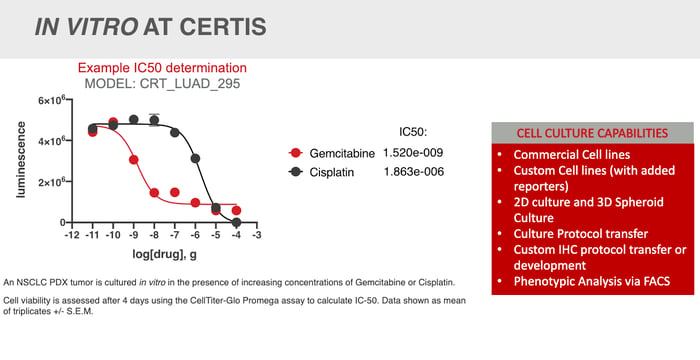 A Tailored Approach
When it comes to preclinical assays, there's no one-size-fits-all screening strategy. Certis offers a robust portfolio of in vitro assays tailored to your unique needs and your pipeline. The Certis scientific team of PhD-level in vitro experts will serve as your trusted preclinical partner to help develop and validate the assays you need to answer your complex question. The assays Certis performs and the compounds tested are done using rigorous scientific standards, in a highly collaborative and transparent manner.
Ease Clinical Translation with PDX-Derived Cell Lines
While easy to get a hold of and heavily used, common cell lines may not always provide clinically relevant results. High passage numbers and other confounding factors can also provide uncertain data. Certis PDX models and PDX-derived cell cultures in the ever-growing Certis Tumor Bank, are low passage, highly characterized, and patient-consented. Many are pretreated with the current standard of care therapies. Furthermore, each tumor in the Certis Tumor Bank is annotated with patient information, genetic sequencing, growth curves, histology, pharmacology response, and imaging data.
"With our PDX cell cultures, we grow them serum-free to maintain heterogeneity in the undifferentiated stem cell population," says Jantzen Sperry, PhD, Certis Director of Scientific Operations. "Once you start working with serum, you lose that heterogeneity, you lose that expression, and you lose that closeness to the original tumor."
In addition, the Certis in-house bioinformatics team and rigorous quality control process ensure that in vitro data is accurate, reliable, and streamline the transition from in vitro to in vivo studies.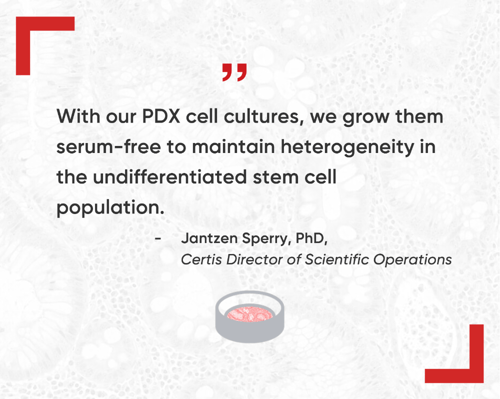 A Rigorous Quality Control Process
To help ensure precise and reproducible results, Certis implements a rigorous three-step quality control process to help ensure experimental parameters are optimized, with regular mycoplasma testing and mouse content measurements through spectral flow cytometry. In addition, all tumors in the Certis Tumor Bank have undergone RNA-seq and whole-exome sequencing to confirm human content and fully characterize gene expression of key transcriptomic biomarkers.
Unlike other CROs, Certis offers a tailored approach and attention to detail to provide you and your drug development team, optimal results that are reproducible and translate to the clinic. Join the pharmaceutical companies and academic institutions that have experienced the quality of our in vitro services and the certainty of our data.
For more information on our comprehensive in vitro services, visit our website today.
References
ABOUT THE AUTHOR
Elie Diner has a PhD in bioengineering and 12 years of research experience in microbiology, synthetic biology and immunology. During his time at the bench, he developed a passion for effective science communication and eventually transitioned into a career as a professional science and content writer. He's authored 12 peer-reviewed scientific publications and numerous blogs, whitepapers, and eBooks for life science companies.
Back to Feed