The Subcutaneous Xenograft vs Orthotopic Xenograft Debate
Posted by: Elie J. Diner, Ph.D. -
Subcutaneous vs Orthotopic Xenografts: Identifying Clinically Relevant Models for Making More Accurate, Personalized Cancer Treatment Decisions
In our last blog, we explored some of the current gaps in personalized medicine and how patient-derived xenografts (PDX) can enable clinicians to make more accurate and personalized cancer treatment decisions.
Just in case you missed it, here are the top 3 things you need to know:
PDX uses a tissue biopsy from your tumor to grow a "photocopy" of it in a special mouse model in a laboratory.
This personalized model can be used to accurately mimic tumor growth, metastasis, and treatment response--and even to predict recurrence and acquired drug resistance.
Not all PDX methods are created equal and there are barriers to the widespread use of PDX, including standardization of clinical procedures and difficulty collecting results on clinically-relevant timelines.
One major hurdle is a lack of clinical consensus on whether to use subcutaneous xenografts, where a patient's tumor tissue is implanted just under the skin of a mouse or orthotopic xenografts (called O-PDX for short), where a patient's tumor is implanted in a mouse in the same organ or tissue as it occurs in their body.
We concluded our last blog just short of digging into the scientific literature for an in-depth comparison of subcutaneous vs orthotopic xenografts. And in this blog, we'll be doing just that, reviewing the head-to-head studies on patient-derived subcutaneous vs orthotopic xenografts.
But before we jump in, we'll do a quick overview of the pros and cons of subcutaneous PDX vs O-PDX.
The Subcutaneous vs

Orthotopic Xenograft Debate, In Brief
Subcutaneous PDX is a more widely used and accepted technique than O-PDX. The major attraction of this technique is its technical ease: It's easy to implant patient-derived tumor tissue just beneath the skin and easy to measure tumor growth and treatment response. Though subcutaneous PDX wins on ease-of-use, it loses on clinical accuracy. For many different types of cancer, this model fails to metastasize, accurately mimic the tumor microenvironment, or imitate a patient's clinical treatment response.1
By contrast, O-PDX can more accurately predict clinical outcomes and acceptance of the method is trending upwards in the oncology world.2 Over the past few decades, definitive studies that compare subcutaneous PDX to O-PDX have been published in major scientific and medical journals, demonstrating the precision of O-PDX. For scientists, these publications provide the objective data that supports a major sea change in the PDX debate. And for clinicians, this scientific evidence is a necessary prerequisite to developing standardized PDX methodology and building precision oncology into a field that can change clinical outcomes for the patients they treat.
With the importance of these studies established, let's dive into some of the standout studies that have been published. We'll focus specifically on the cancer types that have some of the most concrete and compelling data and are already being translated and implemented in the clinic.
Pancreatic Cancer
Pancreatic cancer is one of the most deadly types of cancer and is the fourth leading cause of cancer-related death.3 For that reason, developing accurate tumor PDX models is a priority. In a presentation at the American Association of Cancer Research annual meeting, researchers from the pharmaceutical company, Abbvie, compared patient-derived pancreatic tumors implanted subcutaneously or orthotopically into immunodeficient mice. They focused on analyzing the overall structure (called morphology in the scientific literature) of the tumor microenvironment, tumor growth over time, metastasis, and response to treatments with chemotherapy and a new antibody-drug conjugate therapy.
The scientists reported that the "orthotopic PDX model serves as a more accurate representation of human pancreatic cancer [than subcutaneous PDX] by displaying stromal-rich morphology, exhibiting metastatic cell behavior, and recapitulating therapeutic response challenges observed in patients."4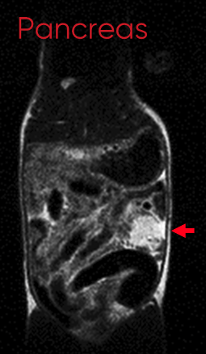 These data are consistent with a number of other studies that have developed accurate O-PDX that mimic clinical behavior in patients.5-7 One critical point that these studies make is that, in addition to the clinical characteristics analyzed, it's also important that these models maintain the same molecular and genetic biomarkers as the original tumors, as these underlie the behavior and clinical course of a patient's cancer.5,6 Two independent groups have found very close genetic and molecular correlations between patient-derived tumor samples and the established O-PDX models. In a study by research groups from the University of Virginia and University of Nebraska Medical Center, Walters et al. conclude, "The orthotopic xenograft model using fresh human specimens most closely recapitulates the molecular and genetic heterogeneity of PDAC [human pancreatic ductal adenocarcinoma], human metastatic patterns, the tumor microenvironment, and drug delivery."6 Taken together, the scientific evidence is mounting for the clinical accuracy of O-PDX for pancreatic tumors.
Pediatric Neuroblastoma
Neuroblastoma is another clinically challenging form of cancer that requires more accurate models to inform clinical decision-making. It accounts for 15% of all pediatric cancer deaths and cure rates for high-risk neuroblastoma are below 50%.8 "A major challenge for the use of high-risk neuroblastoma PDX models in personalised medicine is the development, validation and application of models in a timeframe that can still inform individual patient treatment," explain a group of researchers from the Children's Cancer Institute at UNSW Sydney in their publication in the British Journal of Cancer.

In the article, Kamili et al. compare subcutaneous PDX to O-PDX and find that while both models can help predict treatment responses, "...orthotopic adrenal engraftment was substantially faster than either subcutaneous or intramuscular engraftment [...]." The utility of these models for accurately screening different treatments and the added benefit of faster engraftment holds a lot of potential for application to clinical cases. Another study published in the journal Nature has further validated the broad application of O-PDX models to rare, recurrent pediatric solid tumors (including neuroblastoma), demonstrating close recapitulation of molecular and genetic biomarkers in these models with patient samples.9
Breast Cancer
Despite major advances in the diagnosis and management of breast cancer, there are still over 40,000 deaths per year, making it the 2nd highest cancer-related death among U.S. women.10 Breast cancers are generally separated into three subtypes, ER+, HER2+, and triple-negative breast cancer (TNBC), but like most forms of cancer there is pretty extensive heterogeneity within these 3 subtypes. Therefore, developing more personalized and accurate testing that can inform clinical decision-making is an important step in improving outcomes.
PDX methodology has been applied extensively to breast cancer and a large international consortium of researchers from Europe, Australia, and North America has developed over 500 stably transplantable PDX models.11 In a huge review of data collected across the consortium, the scientists build a consensus around PDX and its clinical use in the treatment of breast cancer.

They also touch on some of the remaining questions and limitations including the debate about what the most accurate transplantation site is for developing clinical models.

To address this challenge, a group of researchers from a number of different cancer institutes and universities in the U.S. and Japan, performed a first-of-its-kind study in breast cancer to build a consensus around the subcutaneous PDX vs O-PDX debate. "Many investigators have reported the feasibility of orthotopic site implantation (OS), say the researchers, "and in the PDX consortium review, many facilities have adopted OS, while others chose subcutaneous space implantation."10 Using patient-derived ER+ tumors and TNBC tumors for implantation, they find that, "orthotopic implantation showed better engraftment rate and tumor growth than [...] subcutaneous implantation in breast cancer PDX models."
Next Steps for O-PDX: Is the Debate Over?
Based on the evidence above and our team of scientific and medical advisors at Certis, we believe that O-PDX is the best way to accurately and precisely replicate the clinical behavior and treatment response of a patient's unique cancer. And as you can see from the studies referenced above the broader scientific and medical community is beginning to as well. Like everything in science and medicine, cancer is not black and white. Cancer is a heterogeneous disease, and additional scientific studies are needed to determine if O-PDX is the appropriate model for the vast array of cancer types and subtypes.
If you're a patient who has been diagnosed with cancer and are interested in learning more about how O-PDX could work for you, reach out to us and see if you're a good candidate.
Or if you want to do your own deep dive into some of the literature on O-PDX, check out some of the references below or read the publications, blog posts, and clinical results on our website:
References
Yoshida GJ. Applications of patient-derived tumor xenograft models and tumor organoids. J Hematol Oncol. 2020;13(1):4.
Bhimani J, Ball K, Stebbing J. Patient-derived xenograft models—the future of personalised cancer treatment. Br J Cancer. 2020;122:601–602.
Cancer Facts & Figures 2020. American Cancer Society website: https://www.cancer.org/content/dam/cancer-org/research/cancer-facts-and-statistics/annual-cancer-facts-and-figures/2020/cancer-facts-and-figures-2020.pdf. Published June 20, 2020. Accessed March 24, 2021.
Fong SL, Pysz MA, McKnight K, et al. Abstract 4937: Comparison of orthotopic and subcutaneous implantation of pancreatic cancer patient-derived xenograft models for drug development.Cancer Research. 2017;77:4937.
Mattie M, Christensen A, Chang MS, et al. Molecular characterization of patient-derived human pancreatic tumor xenograft models for preclinical and translational development of cancer therapeutics. Neoplasia. 2013;15(10):1138-1150.
Walters DM, Stokes JB, Adair SJ, et al. Clinical, molecular and genetic validation of a murine orthotopic xenograft model of pancreatic adenocarcinoma using fresh human specimens. PLoS One. 2013;8(10):e77065.
Go KL, Delitto D, Judge SM, et al. Orthotopic Patient-Derived Pancreatic Cancer Xenografts Engraft Into the Pancreatic Parenchyma, Metastasize, and Induce Muscle Wasting to Recapitulate the Human Disease. Pancreas. 2017;46(6):813-819.
Kamili A, Gifford AJ, Li N, et al. Accelerating development of high-risk neuroblastoma patient-derived xenograft models for preclinical testing and personalised therapy. Br J Cancer. 2020;122:680–691.
Stewart E, Federico SM, Chen X, et al. Orthotopic patient-derived xenografts of paediatric solid tumours. Nature. 2017;549(7670):96-100.
Okano M, Oshi M, Butash A, et al. Orthotopic Implantation Achieves Better Engraftment and Faster Growth Than Subcutaneous Implantation in Breast Cancer Patient-Derived Xenografts. J Mammary Gland Biol Neoplasia. 2020;25(1):27-36.
Dobrolecki LE, Airhart SD, Alferez DG, et al. Patient-derived xenograft (PDX) models in basic and translational breast cancer research. Cancer Metastasis Rev. 2016;35(4):547-573.
About the Author:
Elie Diner has a Ph.D. in bioengineering and 12 years of research experience in microbiology, synthetic biology, and immunology. During his time at the bench, he developed a passion for effective science communication and eventually transitioned into a career as a professional science and content writer. He's authored 12 peer-reviewed scientific publications and numerous blogs, whitepapers, and e-books for life science companies.
Back to Feed